CNC 5 Bed Way Heavy Duty Extra Long Turning Centers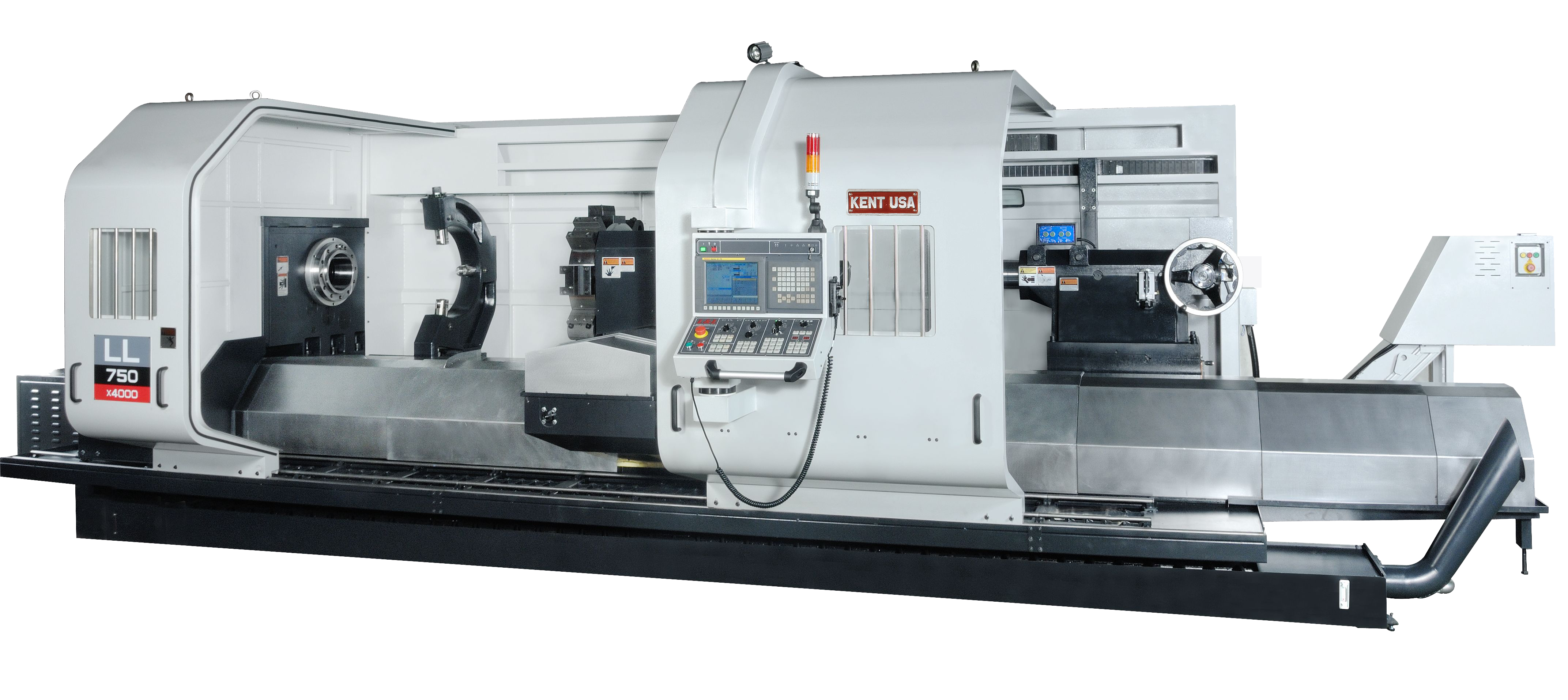 The Kent CNC LL Series Extra Long 5 Bed Way Heavy Duty Turning Centers allow for seamless turning from tip to tip with its 5 individual bed way structure. The 5 bed way design keeps the carriage, tailstock and steady rest on their own ways. This special high-low bed ways design retains the rigidity of a flat bed lathe while also having the advantages of slant bed lathes. The LL Series Extra Long 5 Bed Way Heavy Duty Turning Center Series features up to 53 feet (16,000 mm) of distance between centers, 16 inches in spindle bore diameter, and over 22,000 lbs of turning capacity.
Turret, Steady Rest, and Carriage
The high concentricity hydraulic steady rest allows automatic adjustments for clamping different diameter work pieces. All clamping/unclamping can be controlled by M code. On the other hand, the manual steady rest is equipped with a 3-point heavy duty needle roller bearing. The tool can also pass the steady rest without interference. Lastly,Our box type carriage and cross slide do not interfere with the steady rest. In addition, Turcite B lining is applied on cross slide and carriage to reduce friction.
Tailstock
The tailstock is equipped with high-precision rotary mandrel which provides maximum rigidity and high load capacity. In addition, the electric and manual quill movement allows for easy quill positioning.
LL750
LL950
Swing Over Bed
29.5″
37.4″
Maximum Cutting Diameter
29.5″
37.4″
Center Height
22.6″
26.6″
Distance Between Centers
120″ (Opt. Up to 320″)
120″ (Opt. Up to 400″)
Carriage Type
Box Type
Carriage Width
37.6″
Cross Slide Width
17.7″
Bed Width
39″
Machine Length
330″ (Opt. Up to 565″)
330″ (Opt. Up to 683″)
Bed Way
2 Box Ways for Carriage 1V way and 2 flat ways for tailstock
Controller
Fanuc 0i-TF
X-Axis Servo Motor
5.4 HP
Z-Axis Servo Motor
9.4 HP
Spindle Motor
30HP/35HP
Spindle Bore
6″ (Up to 16″)
Spindle Nose
A2-11 (Opt. Up to A2-28)
Spindle Speed
9-600 RPM (Opt. 5-250 RPM)
Spindle Center
MT#6
Turret Mode
V8-160 (Opt. H4-350 VDI, ODT-N-32)
V12-200 (Opt. H4-350 VDI, ODT-N-32)
Quill Diameter
6.5″
7.9″
Quill Stroke
9.8″
Tailstock Center
MT#6
Body Movement
Motorized (motor through rack and pinion) + gear reducer
Quill Movement
Motorized (Opt. Hydraulic)
X-Axis Rapid Traverse
197 ipm
X-Axis Ballscrew Diameter
40mm x P5
X-Axis Feed Range
0.1-3000 mm/min
X-Axis Stroke
14.6″
19″
Z-Axis Rapid Traverse
5000 mm/min
Z-Axis Ballscrew Diameter
120″ (Opt. Up to 320″)
Z-Axis Feed Range
0.1-3000 mm/min
Z-Axis Stroke
120″ (Opt. Up to 320″)
LL1250
LL1450
LL1650
Swing Over Bed
49″
57″
65″
Maximum Cutting Diameter
49″
57″
65″
Maximum Cutting Diameter of Roller Bracket Support
41″
48″
56″
Center Height
27.8″
31.7″
35.6″
Distance Between Centers
120″ (Opt. up to 630″)
Carriage Type
Box Type
Carriage Width
42.5″
Cross Slide Width
23.6″
Bed Width
54″
Machine Length
520″ (Opt. Up to 1030″)
Bed Way
2 Box Ways for Carriage 1V way and 2 flat ways for tailstock
Controller
Fanuc 0i-TF
X-Axis Servo Motor
5.4 HP
Z-Axis Servo Motor
9.4 HP
Spindle Motor
30HP/35HP (Opt. 40HP/50HP)
Spindle Bore
7.87″
Spindle Nose
A2-15
Spindle Speed
4-400 RPM
Spindle Center
MT#6
Turret Mode
H4-450 VDI or V12-200
Tool Size
1.57″
Quill Diameter
11.8″
Quill Stroke
9.8″
Tailstock Center
MT#7
Body Movement
Motorized + Gear Reducer
Quill Movement
Hydraulic
X-Axis Rapid Traverse
500mm/min
X-Axis Ballscrew Diameter
50mm x P5
X-Axis Feed Range
0.1-3000 mm/min
X-Axis Stroke
30″
Z-Axis Rapid Traverse
5000 mm/min
Z-Axis Ballscrew Diameter
80mm x P10
Z-Axis Feed Range
0.1-3000 mm/min
Z-Axis Stroke
120″ (Opt. Up to 320″)