CNC Double Turret Turning Centers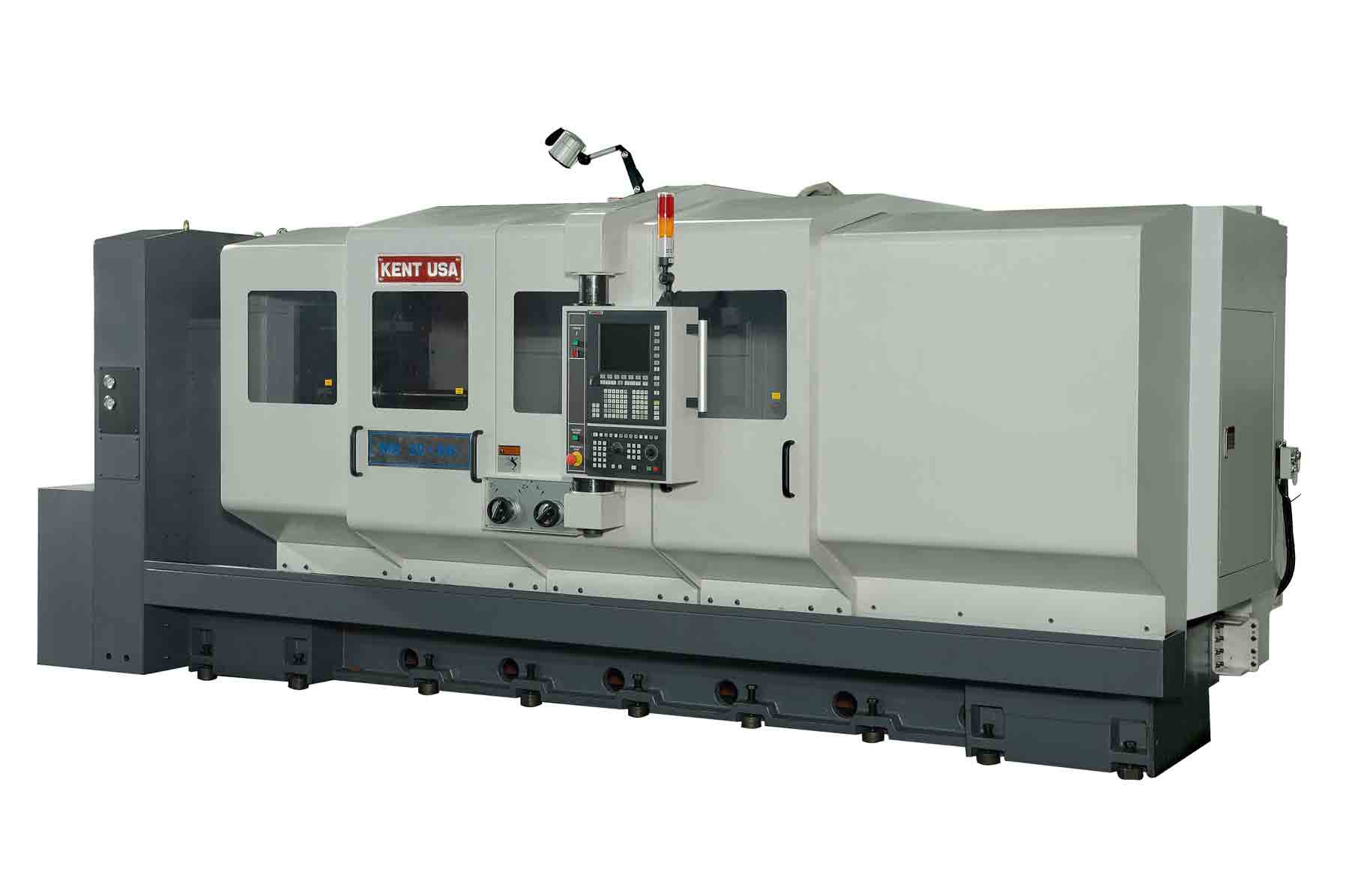 The Kent CNC Double Turret Turning Center provides 2 excellent configurations for complex double-spindle turning. The twin turret setup allows for the most efficient utilization of both upper and lower turrets in one compact design. The MA Series Double Turret Mill-Turn Turning Centers are designed for machining complex work-pieces on both ends simultaneously. This allows for enhanced efficiency for mass production runs.
Single Piece Bed Structure
The massive bed is single-piece manufactured from high quality Meehanite cast iron. The bedway is induction hardened to hardness of HRC 52~54 and precision ground for the highest accuracy. In addition, the box type way for cross slide offers more rigidity for heavy cutting. Turcite-B lining is applied on the cross slide and the carriage to reduce friction.
Hydraulic Turret
The standard equipped hydraulic turret can hole up to 8 tools. It features high indexing accuracy, random tool selection and fast tool change. An optional quick-change toolholder can also be equipped. This can accommodate for more tools and faster tool changing, which yields shorter processing times.
Rigid Spindle
All gears are manufactured from high quality nickel chrome-molybdenum alloy steel in combination with a large module design. Our precision lathes are turned for ultimate performance through dynamic balance testing. The spindle is supported by high precision taper roller bearings. Also, an auto-lubrication system is equipped for headstock gears and spindle bearings.
MA Series
MA-U Series
Swing Over Bed
30″
Swing Over Cross Slide
15.7″
Center Height
16.7″
Width of Carriage
37.4″ (Box Slide)
Width of Cross Slide
15.7″
Control
Fanuc 0i-TF
Width of Bed
22″
Bed Way
3V way with 1 flat way
Spindle Bore
6″ (Opt. 8″ or 9″)
9″ (Opt. 10″ or 12″)
Spindle Nose
A2-11 (Opt. A2-15)
A2-15 (Opt. A2-20)
Spindle Speed
6-850 RPM (Opt. 5-500 RPM)
5-500 RPM (Opt. 18-450 RPM)
Spindle Center
MT#6
Spindle Motor
Fanuc 0i-TF 25/30 HP (Opt. 30/35HP)
Turret Model
Single System with Double Turret
V8-100 on the front
H4-250 on the back
Double System with Double Turret
V8-100 on the front
H4-250 on the back
Tool Size
1.25″
Quill Diameter
5″ + Live Center MT#6
Quill Traverse
7.9″
Tailstock Center
MT#6
Body Movement
Move by Carriage
Quill Movement
Manual (Opt. Hydraulic)
X-Axis Rapid Traverse
6M/min
X-Axis Ballscrew Diameter
40mm x P5
X-Axis Feed Range
0.1-3000 mm/min
X-Axis Traverse
19.7″
X-Axis Servo Motor
Fanuc 4HP
Z-Axis Rapid Traverse
1-5M: 6M/min
Z-Axis Ballscrew Diameter
1-5M: 63mm/min
Z-Axis Feed Range
0.1-3000 mm/min
Z-Axis Traverse
39.7″ (Up to 196″)
Z-Axis Servo Motor
Fanuc 5.4HP