Rize One 3D Printer
Rize One, the world's first hybrid 3D printer, is a breakthrough printer, combining two discrete technologies, Fused Filament Fabrication (FFF) and Piezo Jetting. This is enabling companies to sustainably deliver a vast range of custom and replacement manufacturing parts with the highest isotropic strength. The breakthrough is made possible through Rize's patented technology called Augmented Polymer Deposition (APO), which enables inclusive multi-material printing with minimal post processing and the sustainable use of safe, non-toxic and recyclable materials. Intelligent products increasingly require parts with variable materials, which include mechanical, electrical and chemical properties. Rize's inclusive APO process fuses them into unified parts, enabling innovators to deliver unprecedented customer experiences.
Build Size: 12in X 8in. X 6in (300mm x 200mm x 150mm)

Layer Thickness: 0.25mm (250μ)

Workstation Compatibility: 64-bit Operating System, x64-based processor; Windows® 7, 8 or 10

Network Connectivity: Ethernet 10/100, or USB stick

Size: 21.4in tall X 36in wide X 25.4in deep (543mm x 915mm x 644mm)

Power requirements: Universal power 100-240VAC, 750W

15°C–30°C (59°F–86°F) Operating Environment Temperature

20%–60% Relative Humidity

Regulatory Compliance: FCC, RoHS, NRTL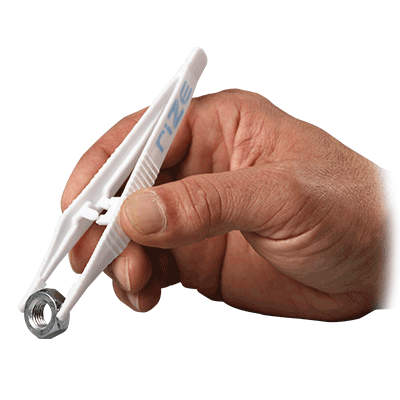 Unlike other desktop 3D printers, Rize One is entirely office safe, with no harmful particle emissions and no messy or toxic post-processing.
All the materials used in the Rize One process are safe and recyclable.
Compact enough to sit in the lab or on your desk without a special facility or disposal requirements.
Tooling, Fixtures & Jigs for Manufacturing
Work Holding and End-Use Parts
Functional Prototypes
Rizium One: A proprietary compound of engineering and medical grade thermoplastic.
Release One: A repelling ink jetted between the part and its support structure, releasing the bond between these two layers, making support removal faster and safer than any other 3D printing process.
Marking Ink: Jetted wherever it's needed to produce text and images onto parts
Augmented Polymer Deposition (APD™)
Rize uses its patented Augmented Polymer Deposition (APD™) technology to produce commercial-quality parts safer, stronger and faster than FDM systems:
1. Prepare your file: Unique software makes your 3D file 3D printable with just one click.
2. 3D print your part:
• Rize One automatically heats and extrudes Rizium™ One, a proprietary engineering and medical-grade thermoplastic filament, to form the support structure for the part.
• A print head jets Release One repelling ink between the support structure and the part.
• Rizium One is extruded, building up the layers of the part.
• The print head jets Marking Ink wherever and whenever it's called for in the file to produce text and images on the part.
3. Release the part: Simply release the 3D printed part from its support structure cleanly, safely and in seconds with your bare hands, without any filing or sanding, it's ready to use.