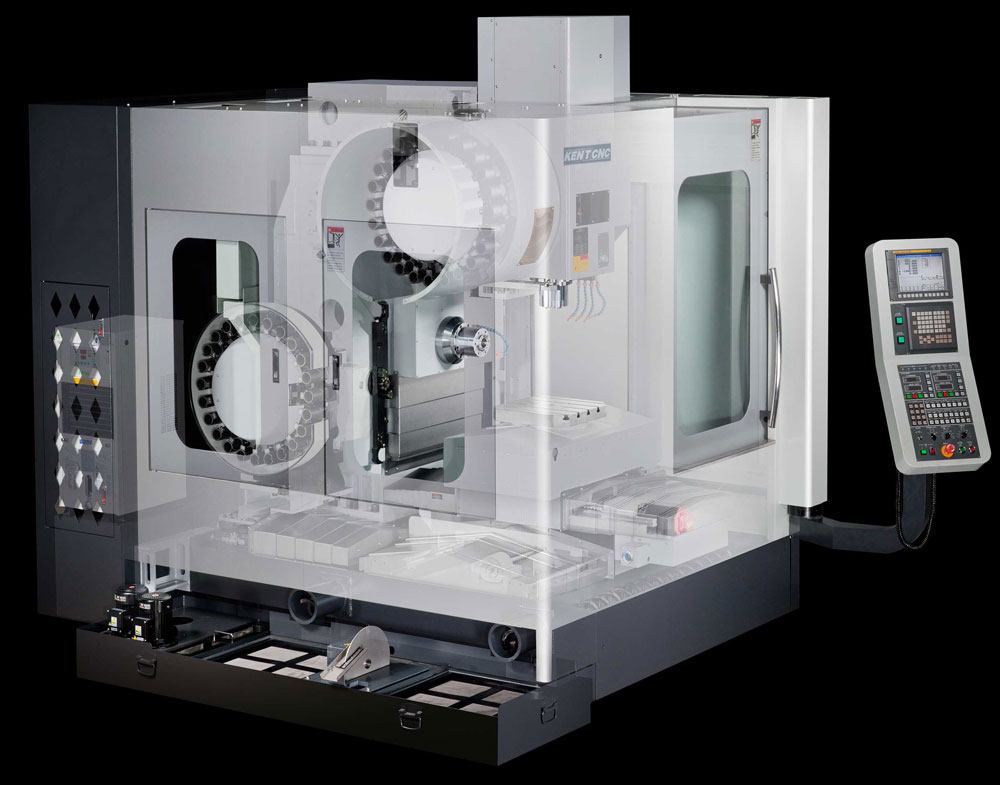 Combination Spindle KHV Series
Kent CNC has introduced the New Kent CNC KHV-400 Combination Horizontal/Vertical Machining Center with the industry standard 0i-MD control by FANUC. Kent CNC sets a new industry standard with their latest combination dual spindle machining center, model KHV-400.  By combining a horizontal machining center with a vertical machining center, this cutting-edge versatile machining center allows for faster setups and parts loading and unloading, improved accuracy, floor space maximization, and capital investment reduction.
Two Spindles are Better than One
It includes a powerful 10 HP (Horizontal)/15 HP (Vertical), 10,000 RPM (Opt. 12,000) spindle with Direct Drive Spindle Motor as standard. Both the horizontal and vertical travels are 19.7" X-axis by 19.7" Y-axis by 17.8" Z-axis with fast two-set 24-tool ATC. In addition, the rapid traverse for each axis is 36m/min that is upgradeable to up to 48m/min. The rotary table is equipped with an optical scale.
This Meehanite certified machine allows for five-sided machining in one setup for fast production and accuracy all in a compact floor space of 82" x 114".
KHV-400
KHV-500
KHV-1100
X Axis travel
19.68″
43.3″
43.3″
Y Axis travel – Vertical
19.68″
23.6″
29.5″
Z Axis travel – Vertical
17.7″
25.6″
Y Axis travel – Horizontal
17.7″
25.6″
Z Axis travel – Horizontal
19.68″
23.6″
29.5″
Vertical Spindle center to column
25.78″
31.9″
Vertical Spindle nose to table top
4.9″ – 22.6″
4.5″ – 22.2″
4.9″ – 30.9″
Horizontal Spindle nose to table center
4.9″ – 24.6″
4.9″ – 28.5″
4.9″ – 30.7″
Horizontal Spindle center to table top
2.95″ – 20.67″
3.5″ x 21.3″
5.1″ – 34.7″
Table height from the floor
42.5″
42.9″
51.2″
Table load capacity
772 lbs
882 lbs
1323 lbs
Spindle nose (BT / CAT / DIN)
BT40 / CAT40 / ISO40
Spindle RPM (Vertical)
10,000 RPM (Opt. 12,000)
Spindle RPM (Horizontal)
10,000 RPM (Opt. 12,000)
Main motor (cont./ 30min)
10 HP / 15 HP (Direct Drive)
25 HP / 27 HP (Direct Drive)
A.T.C. Magazine for arm type (H/V)
24/24 (Opt. 24/40)
24/24 (Opt. 40/40)
A.T.C. tool diameter
2.99″/5″
A.T.C. tool length
9.8″
A.T.C. tool weight
15.4 lbs
Rapid traverse
32 m / Opt. 48 m
24 m
Cutting feed
1 – 15000 mm
Positioning
±0.000118″
Repeatability
±0.0000787″
Rotary table – Table top dimension
15.8″ x 15.8″
19.7″ x 19.7″
Rotary table – T-slots( wide× no.× pitch)
14H7 x 5 x 80 mm
18H7 x 5 x 100 mm
Rotary table – Speed reduction ratio
1:120
1:144
Rotary table – Min. indexing (degree)
0.001°
Rotary table – Max. rotation speed
16.6
11.1
Rotary table – Positioning accuracy
15″
Rotary table – Repeatability
±4″
Rotary table – Max. load
772 lbs
882 lbs
1323 lbs
Coolant system
580 W
Lubrication system
25 W
Air pressure
85 PSI
Machine weight
18739 lbs
19950 lbs
32407 lbs
Floor space ( L x W x H )
114″ x 106″ x 115″
120″ x 106″ x 115″
177″ x 138″ x 140″
CNC Controller
Fanuc 0i-MF / 32i-MB